Turnpike PD&E
South of I-595 to Wiles Road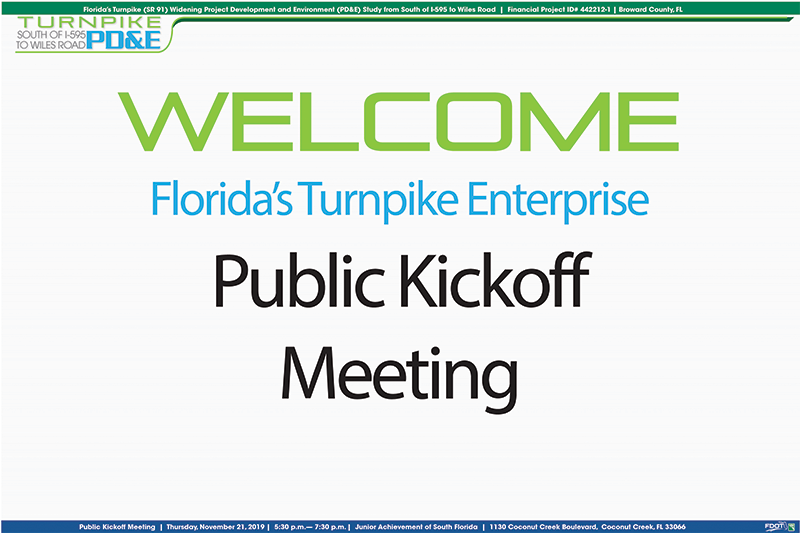 The Florida Department of Transportation, Florida's
Turnpike Enterprise welcomes you to the Online Public
Kickoff Meeting for the Turnpike South of I-595 to Wiles
Road Project Development and Environment (PD&E) Study.

To navigate through the meeting, click on the arrows
on the right and left side of your screen.

To provide a comment at any point during your visit,
simply click on the "Comment" button at the top right of
your screen. A comment form will appear, you may close
the form to continue through the meeting. Once finished,
complete your comment and click "Submit". We look
forward to receiving your input and continuing to work
with you throughout the study.

Turnpike PD&E
South of I-595 to Wiles Road
Click the image to watch the full video presentation.
After watching the video, please continue viewing the online meeting.
Study Schedule
South of I-595 to Wiles Road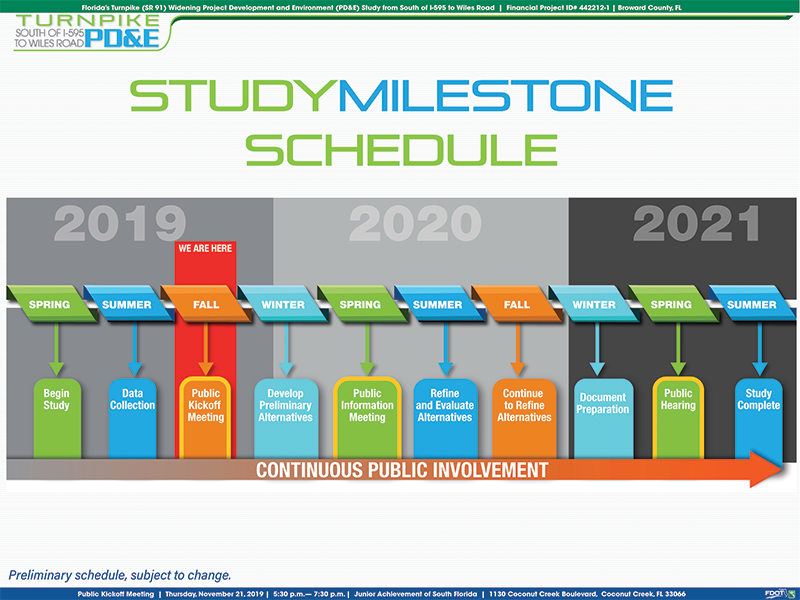 The Turnpike PD&E Study from south
of I-595 to Wiles Road was started by
Florida's Turnpike Enterprise in the spring
of 2019 and is expected to be completed
in summer of 2021.

This schedule is subject to change.
PD&E Process
South of I-595 To Wiles Road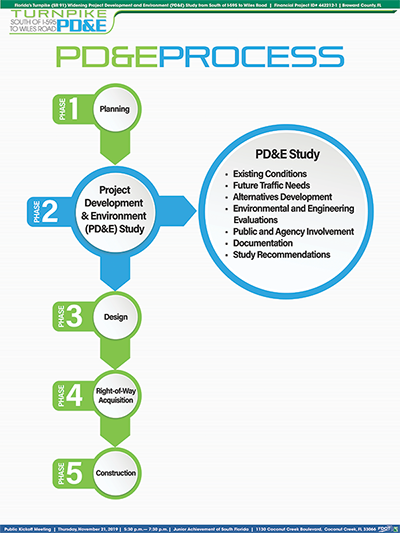 A PD&E Study is an environmental and engineering process
conducted by FDOT to determine social, economic, physical and
environmental impacts associated with a proposed transportation
improvement project. An important component of the process
is public and agency involvement. The process follows Federal
and State laws and regulations. It requires the combined efforts
of professional engineers, planners and scientists who collect
and analyze project-related information to develop the best
solution for a community's transportation needs while
minimizing impacts.

Click on the image to view the different phases of a typical
roadway project. We are currently in the Project Development
& Environment Phase. If a build alternative is selected, then the
project moves forward into the design phase.
Project Location Map
South of I-595 to Wiles Road
The project begins south of I-595 (Milepost 53) and ends at Wiles Road (Milepost 70) on the Florida's Turnpike which is approximately 17 miles in Broward County.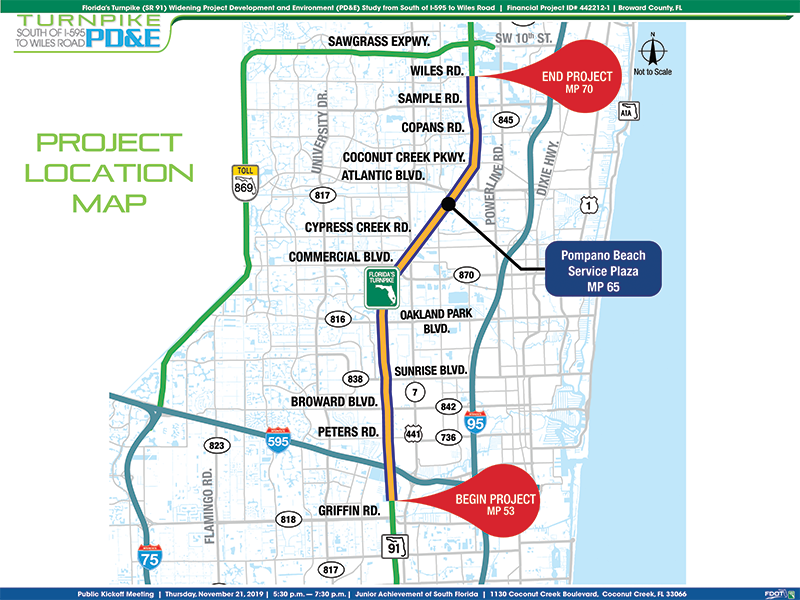 Project Location Map
South of I-595 to Wiles Road
Typical sections are detailed cross section depictions of the
roadway's principal elements that are standard between
milepost limits. Existing typical sections are shown here.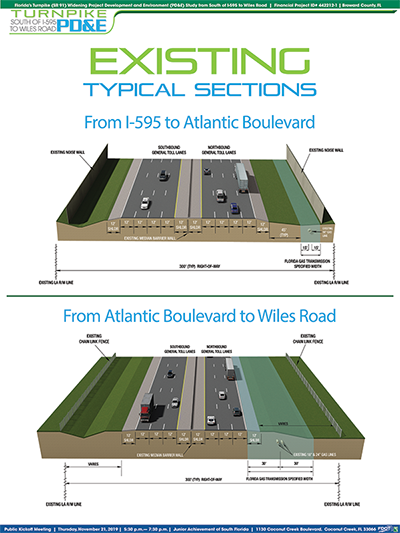 Project Needs
South of I-595 to Wiles Road
Project needs arise from deficiencies and issues that may
frequently slow down traffic, cause delays, or lead to
accidents. The need to improve this section of Florida's
Turnpike is based on the five items listed on the image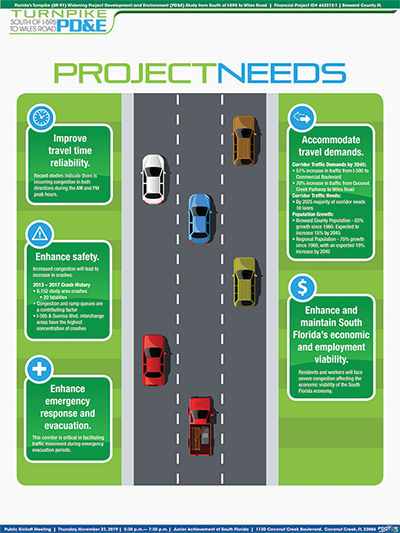 Turnpike Peak Hour Congestion
South of I-595 to Wiles Road
Currently there is moderate to severe congestion in various segments of the Turnpike as well as at some of the interchanges.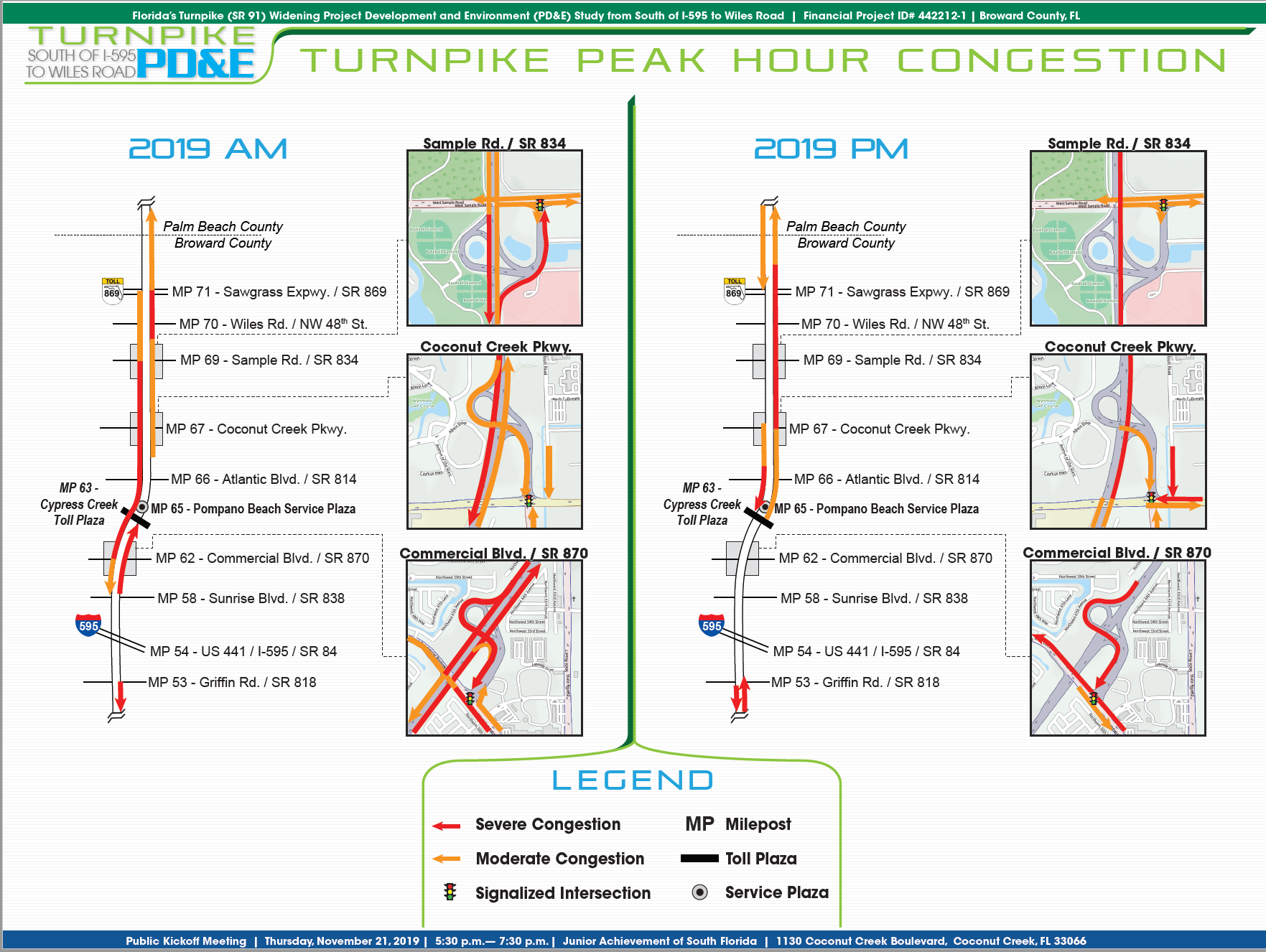 Effects Evaluations
South of I-595 to Wiles Road
As part of the study, Florida's Turnpike Enterprise will evaluate the potential social and environmental effects of the project. Every effort will be made to avoid or minimize these impacts.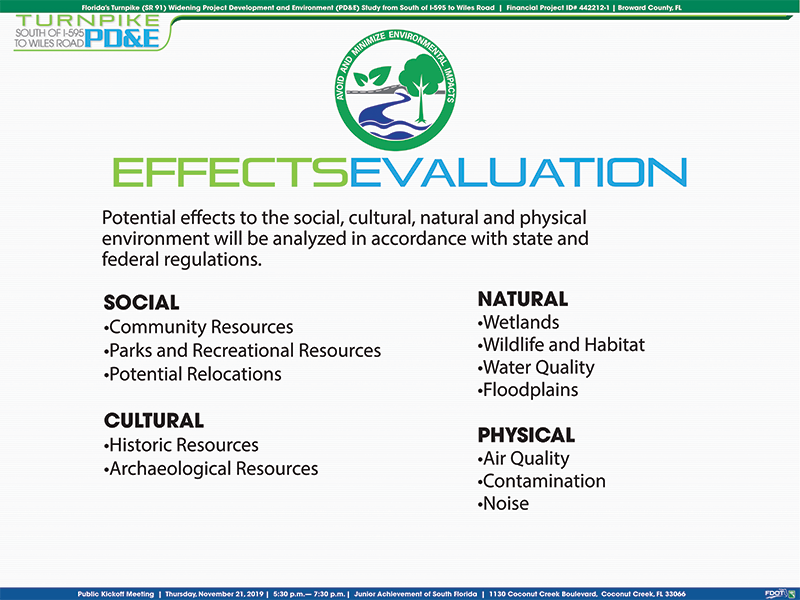 Area Projects
South of I-595 to Wiles Road
There are several on-going PD&E studies, design projects and construction projects adjacent to or near the limits of this PD&E study.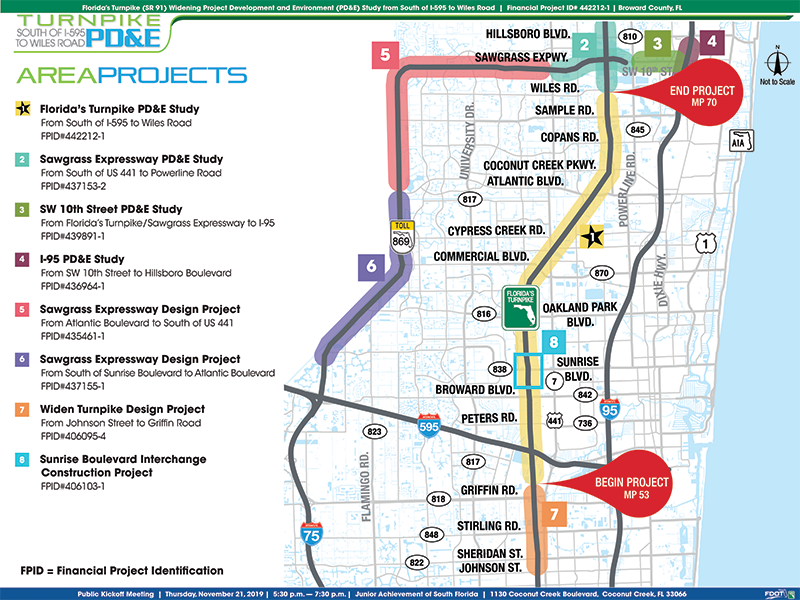 Thank You
South of I-595 to Wiles Road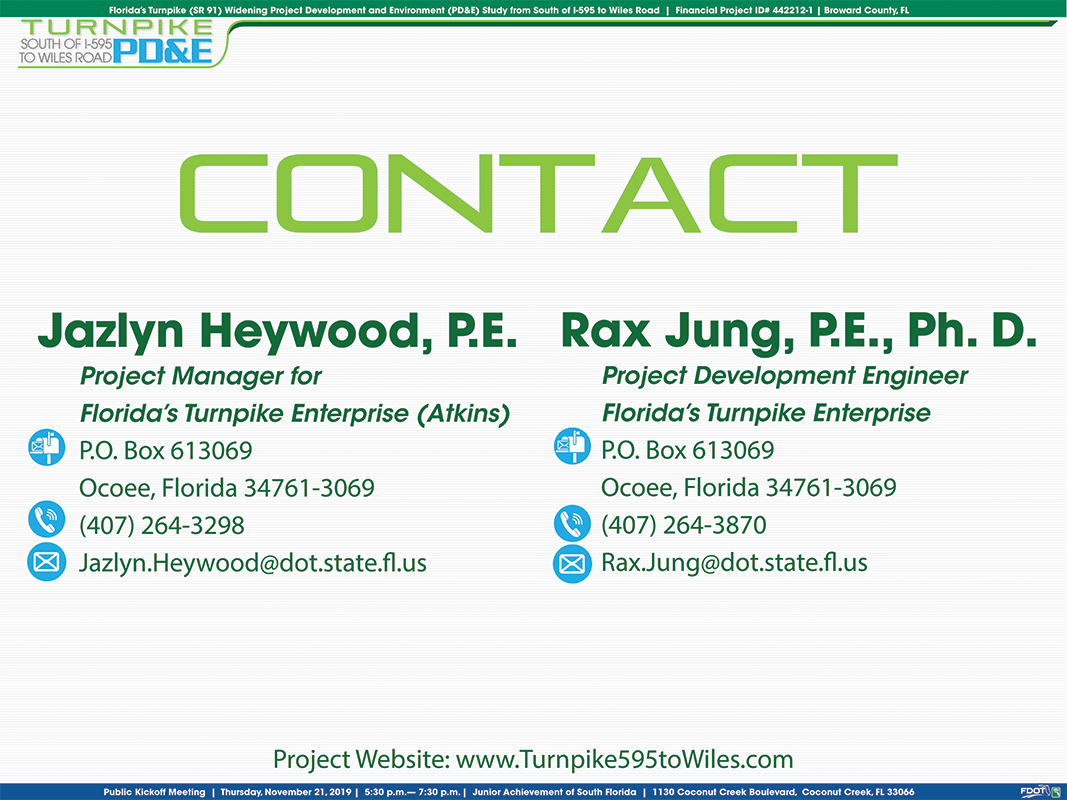 Title VI
South of I-595 to Wiles Road