Central Polk Parkway (SR 570B)
From Polk Parkway (SR 570) to US 17 (SR 35)
FPID: 440897-2
Florida's Turnpike Enterprise (Enterprise), part of the Florida Department of Transportation (FDOT), is designing a new,  four-lane (two lanes in each direction) tolled roadway in Polk County called Central Polk Parkway (SR 570B). This new stretch of roadway will begin at the Polk Parkway (SR 570) at Winter Lake Road (SR 540) and extend approximately 6.5 miles to US 17 (SR 35).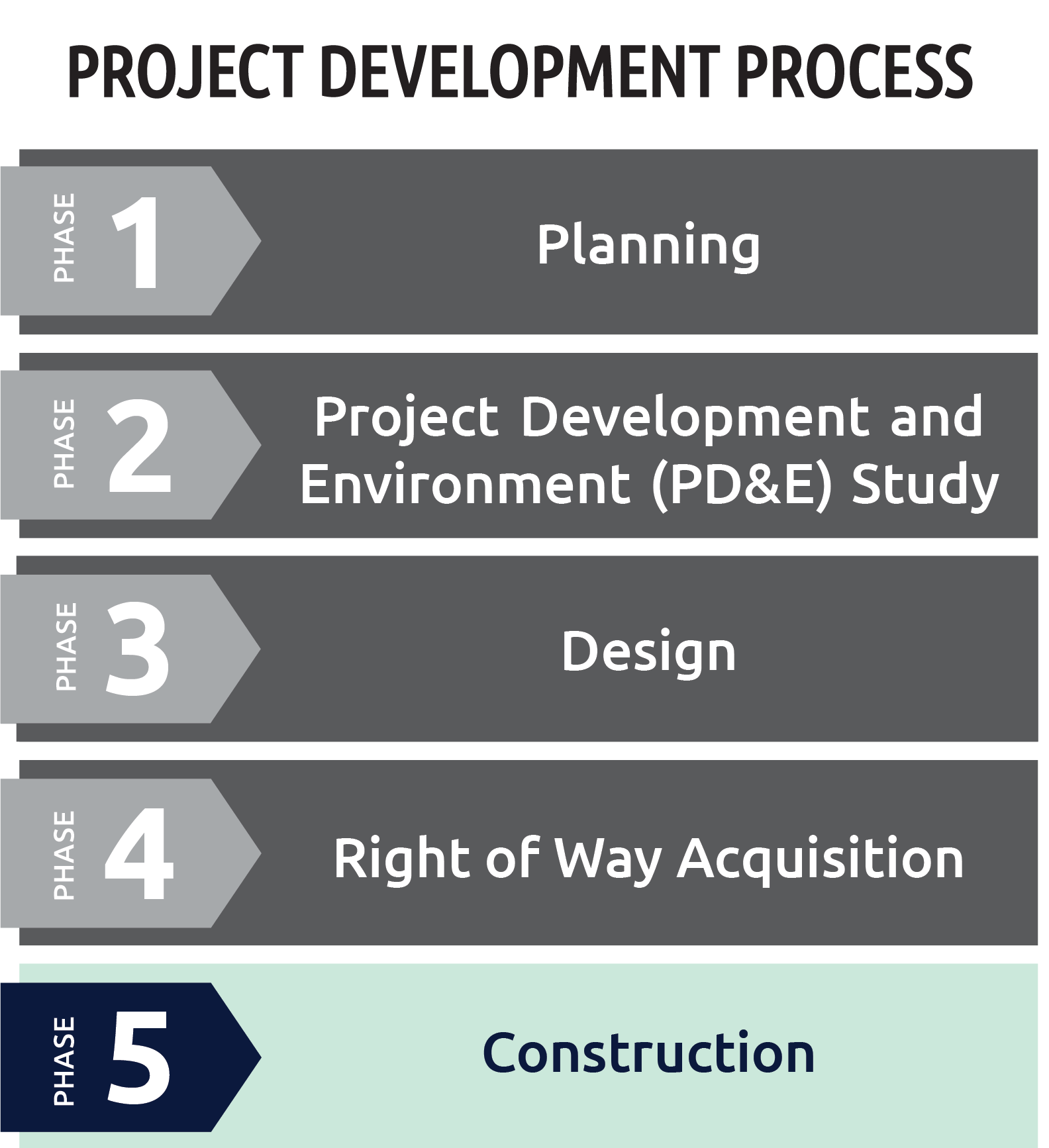 Construction is the fifth phase of the FDOT project development process. Construction plans and specifications are finalized and the project is advertised for construction.
The Central Polk Parkway (SR 570B) design started in early 2018 and is now complete. Design efforts within the project limits included:
Evaluating ramp connections at Polk Parkway (SR 570), Winter Lake Road (SR 540) and US 17 (SR 35)
Advancing utility coordination with Florida Gas Transmission (FGT), Gulfstream Natural Gas, and TECO
Analyzing environmental impacts
Identifying Right-of-Way needs
Conducting additional analysis needed to finalize the design
Coordination with Local Agencies for the relocation of the Marshall Hampton Reserve Trailhead
Noise Studies are performed in the PD&E phase and the Design phase, and re-evaluated if there is a major change in design to the roadway.
In March 2011, FDOT District One completed a Project Development and Environment (PD&E) study, Central Polk Parkway from SR 60 to Polk Parkway (SR 570) and from SR 60 to Interstate 4 (I-4). The limits for that study are shown below. The PD&E study included the Central Polk Parkway segment that is currently in design.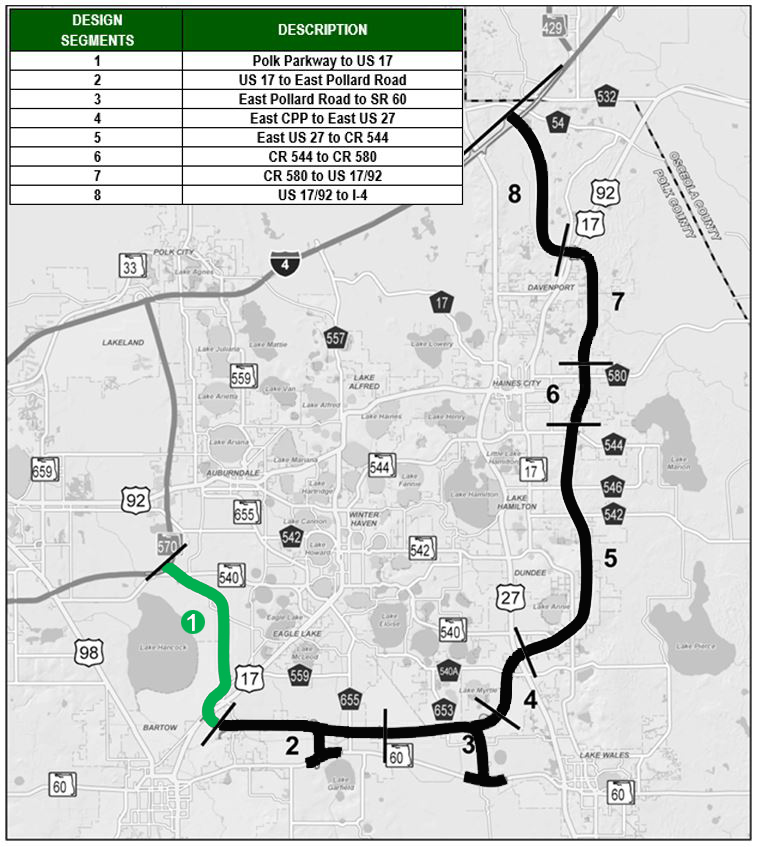 After the PD&E study was approved, FDOT District One partially completed design of Segment 1 of the study. The alignment for Segment 1 is similar to that of the current design segment. FDOT District One transferred the project to The Enterprise, and The Enterprise is now completing the design of this segment of roadway.
The proposed new roadway is a four-lane, divided, limited-access highway that will feature an electronic tolling collection system. The project team has made adjustments to enhance the previously proposed alignment and design of this roadway segment in order to reduce impacts while meeting project needs. This project will include an analysis to document any changes to environmental impacts that may result from the current design activities.
The proposed Central Polk Parkway will provide benefits to the community such as:
Better options for moving people and goods and less congestion on existing area roadways
A more direct route from US 17 (SR 35) to Winter Lake Road (SR 540), Polk Parkway (SR 570), and I-4
Less commercial vehicle traffic through Bartow
Key considerations for the project include:
Avoiding or minimizing impacts to environmental resources
Keeping connections to existing property owners and communities
Coordinating with the Bartow Municipal Airport and the Federal Aviation Administration (FAA) to avoid interfering with operations at the airport
The project limits are from Polk Parkway (SR 570) to US 17 (SR 35) in Polk County. The proposed alignment for the segment of Central Polk Parkway as shown is scheduled to begin construction in the 4th Quarter of 2023. A Project Development and Environment (PD&E) study has been completed and the design is currently underway for the adjacent segment of Central Polk Parkway from US 17 (SR 35) to SR 60.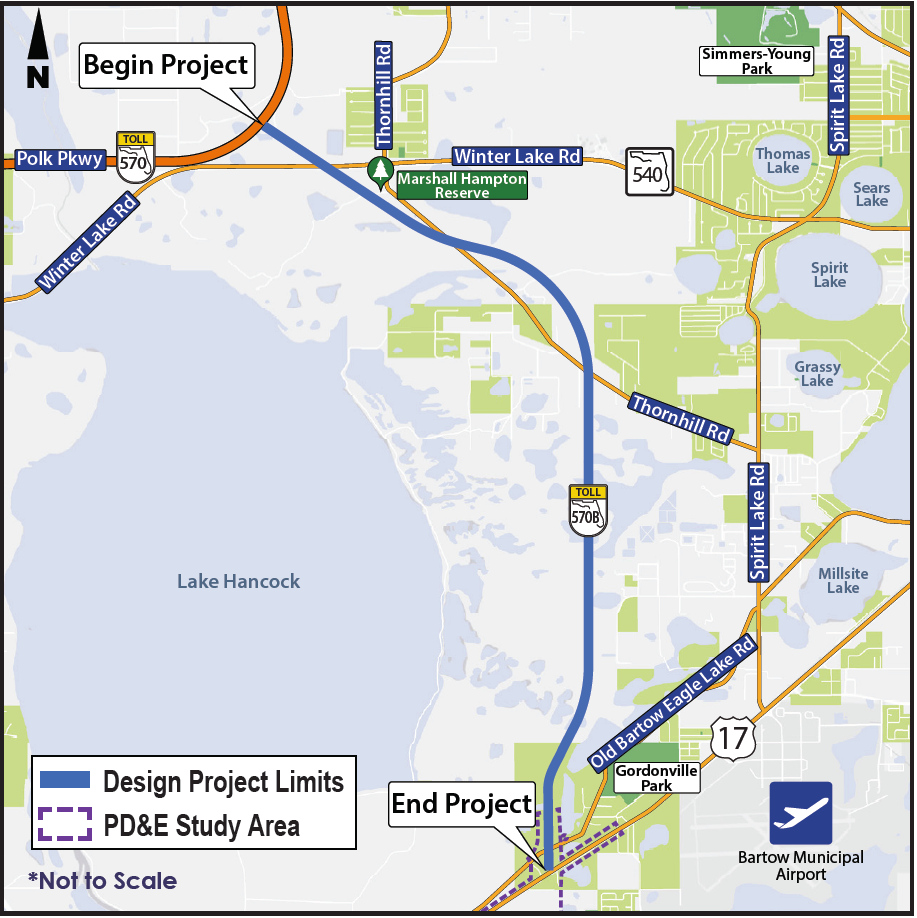 The natural environment is a critical part of this region's economy and quality of life.
Natural habitats within the project limits include the Marshall Hampton Reserve, a 1,173-acre nature reserve that offers wildlife viewing and multi-use trails. The southern portion of the project consists of reclaimed phosphate mining lands. Previous environmental analyses will be updated during the project design, including evaluations of wetlands, listed species, cultural resources, noise, and contamination impacts.
The Enterprise will work collaboratively with its environmental partners to ensure that this new roadway is evaluated and located such that it maintains important connections and minimizes impacts to natural systems.
The Enterprise is at the forefront of planning for a safer, more efficient, and technologically advanced transportation system for the future. The Enterprise continually seeks opportunities to integrate emerging transportation technologies that can help reduce congestion, create mobility choices, minimize environmental impacts and improve safety. The Enterprise also recognizes that connected and automated vehicle (CAV) technologies hold unprecedented opportunities for enhancing mobility and increasing safety on our roadways.
If you have an idea for a technology or innovation that you would like to be considered as part of this study, please reach out to one of the contacts in the Stay Connected section below.
The preliminary design of Central Polk Parkway from Polk Parkway (SR 570) to US 17 (SR 35) began in 2018 and completed in the 3rd Quarter of 2022. Right-of-Way acquisition is complete. Construction is scheduled to begin in the 4th Quarter of 2023 and anticipated to be completed in 2029.
A Public Information Meeting was held on June 18, 2019. (See the Documents section below for meeting materials.) This was a joint meeting to share the progress for this project as well as for the adjacent Central Polk Parkway PD&E study from US 17 (SR 35) to SR 60.
A Public Hearing was held on December 1, 2020. (See the Documents section below for the meeting material.) This Public Hearing shared the progress of this project and discussed changes that have been implemented since the Public Information Meeting.

Schedule is subject to change.
Links to other project-related documents will be posted when available.
Project Manager for Florida's Turnpike Enterprise (HNTB team)
For information in Spanish, please contact:
Para information en espańol por favor contacte:
Juliette Valencia
Community Outreach Manager
Florida's Turnpike Enterprise (WSP USA)
Media inquiries should be directed to the FDOT, Florida's Turnpike Enterprise, Public Information Office using the contact information below:
Tom Alexander
Community Outreach Specialist
Florida's Turnpike Enterprise (WSP USA)
If you choose to provide feedback on this site or in an email, such information is a public record under Florida's Government in the Sunshine Laws and available for public inspection upon demand. Under Florida law, email addresses are public records. If you do not want your email address released in response to a public records request, do not send electronic mail to this entity. Instead, contact this office by phone or in writing.
Public participation is solicited without regard to race, color, national origin, age, sex, religion, disability, or family status.
If you need special accommodations under the Americans with Disabilities Act or require translation services (free of charge), please contact the Project Manager using the contact information listed on this page. If you are hearing or speech impaired, please contact the agency using the Florida Relay Service, 1 (800) 955-8771 (TDD) or 955-8770 (voice).