Northern Turnpike Extension
Turnpike (SR) 91 Extension at Northern Terminus
FPID: 449743-2
Florida's Turnpike Enterprise (FTE), part of the Florida Department of Transportation (FDOT), is conducting an Alternative Corridor Evaluation (ACE) to evaluate the extension of Florida's Turnpike (State Road [SR] 91) from its northerly terminus in Wildwood to a logical and appropriate terminus as determined by the Florida Department of Transportation (FDOT).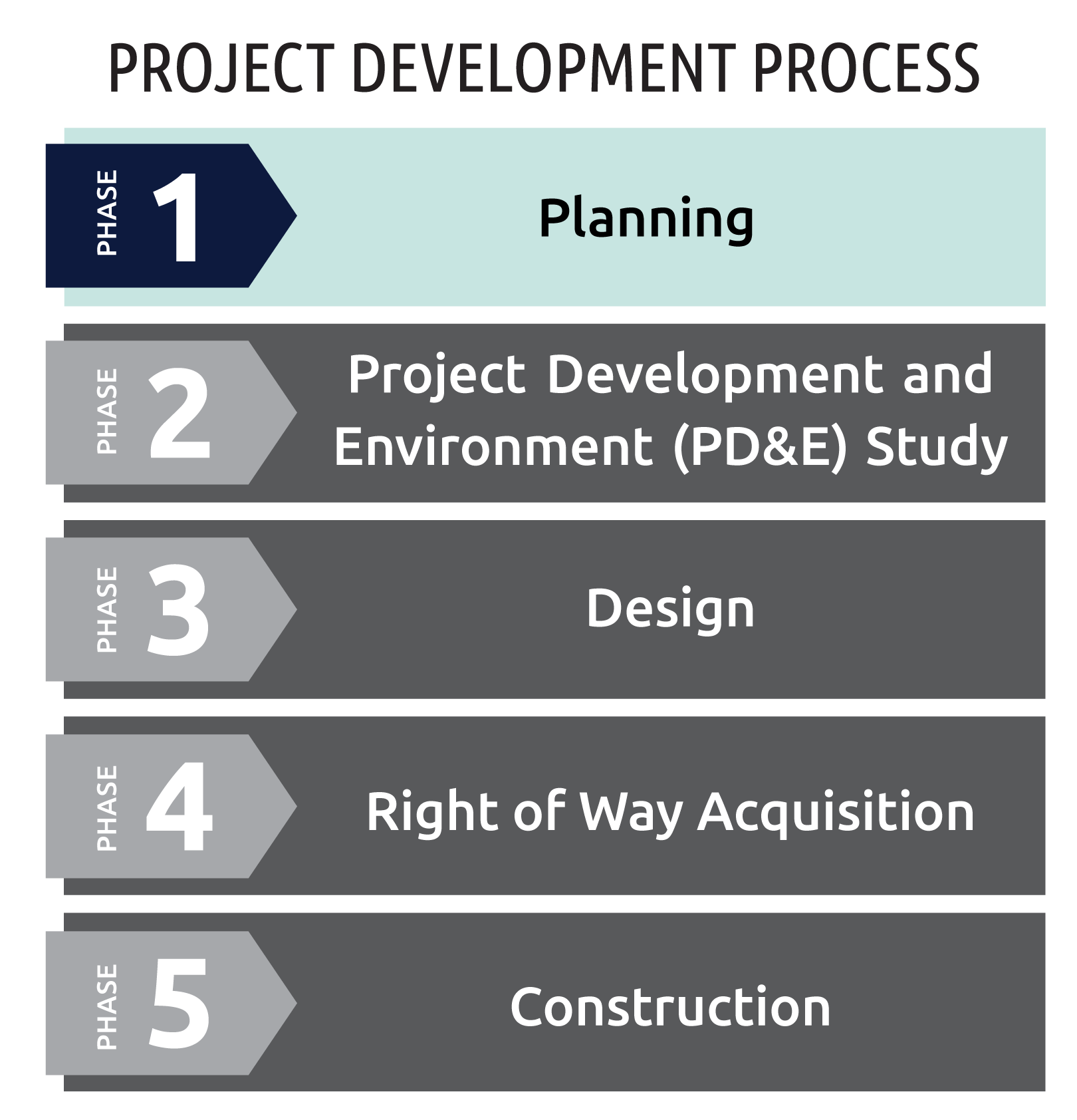 The project is currently in the Planning phase and is following the Alternative Corridor Evaluation (ACE) process.
The project is being screened in the Efficient Transportation Decision Making (ETDM) process where input from the Environmental Technical Advisory Team (ETAT) regarding alternative corridors will be collected. ETAT input helps to determine the feasibility of a proposed project and focus the analysis of the ACE and Project Development and Environment (PD&E).
The ACE process is used to identify, evaluate, and eliminate alternative corridors on qualifying projects prior to the PD&E phase. The decisions made in an ACE can be used to refine the purpose and need for a project; determine the project area; define general travel modes or corridors; describe the general environmental setting for a project; identify preliminary environmental impacts and mitigation; and develop and refine a range of alternatives to be considered in detail during the PD&E Study.
The PD&E phase will overlap and begin partway through the ACE process in order to begin some initial PD&E data collection activities. Upon completion of the ACE, the PD&E will still be ongoing, and FDOT will further evaluate the recommended alternative corridor from the ACE.
The proposed approach for completing PD&E activities for the Northern Turnpike Extension project addresses Florida SB 100 and all FDOT requirements and includes overlapping some ACE and PD&E activities. The ACE will complete partway through the PD&E study, and the ACE will be used to eliminate unreasonable alternatives.
Senate Bill (SB) 100 (2021), codified in section 339.66(6), Florida Statutes directs FDOT to commence the PD&E Study for the Northern Turnpike Extension. A report summarizing the status of the PD&E must be submitted to the Governor of Florida, President of the Florida Senate, and Speaker of the Florida House of Representatives by December 31, 2022.
FDOT will continue to work in partnership with local governments, environmental and community organizations, and the public to facilitate environmental mitigation or ecosystem, wildlife habitat, or water quality protection or restoration. Geographic Information Systems (GIS) data will be used to refine corridors to avoid and minimize impacts to environmentally sensitive features to the extent possible during the ACE.
FTE is at the forefront of planning for a safer, more efficient, and technologically advanced transportation system for the future. FTE continually seeks opportunity to integrate emerging transportation technologies that can help reduce congestion, create mobility choices, minimize environmental impacts, and improve safety. FTE also recognizes that connected and autonomous vehicle (CAV) technologies hold unprecedented opportunities for enhancing mobility and increasing safety on our roadways.
Florida's Turnpike Enterprise started the planning phase of the Northern Turnpike Extension project in October, 2021. The project is currently in early stages of development with the ETDM screening and Alternative Corridor Evaluation underway.  Based on the high level of engagement and interest, FDOT is providing more opportunities to work with local governments, stakeholders and residents within the study area. The additional engagement efforts and increased public interest will continue to influence the project schedule. The project website remains an up-to-date and dependable resource for information and opportunities to provide feedback. Public engagement will continue to shape how the Northern Turnpike Extension supports regional and statewide needs as it moves through all phases of the project development process.

Project inquires, comments, or requests to be added to the project mailing list, can be mailed or emailed to:
Project Manager for Florida's Turnpike Enterprise (HDR)
For information in Spanish, please contact:
Para information en espańol por favor contacte:
Henry Pinzon, P.E.
Environmental Management Engineer for Florida's Turnpike Enterprise
Media inquiries should be directed to the FDOT, Florida's Turnpike Enterprise, Public Information Office using the contact information below:
Angela Starke
Communication and Marketing Director
Florida's Turnpike Enterprise
If you choose to provide feedback on this site or in an email, such information is a public record under Florida's Government in the Sunshine Laws and available for public inspection upon demand. Under Florida law, email addresses are public records. If you do not want your email address released in response to a public records request, do not send electronic mail to this entity. Instead, contact this office by phone or in writing.
Public participation is solicited without regard to race, color, national origin, age, sex, religion, disability, or family status.
If you need special accommodations under the Americans with Disabilities Act or require translation services (free of charge), please contact the Project Manager using the contact information listed on this page. If you are hearing or speech impaired, please contact the agency using the Florida Relay Service, 1 (800) 955-8771 (TDD) or 955-8770 (voice).