SunPass
SunPass is Florida's Prepaid Toll Program and the preferred method of payment for tolls. Since many toll roads in Florida are converting to electronic, no cash, toll collection, it makes sense to get a SunPass. You can save an average of 25% on your tolls, plus, driving Florida's toll roads with a SunPass transponder means no hassle no matter what toll road you drive. Opening a SunPass account requires the purchase, activation and installation of a transponder as well as having a prepaid balance on your account to keep it active. The two most commonly used SunPass transponders are the SunPass Mini and the SunPass PRO. Both devices that are placed on your vehicle's windshield, just below the rearview mirror. As your vehicle passes through SunPass-equipped lanes, the toll charges are electronically deducted from your prepaid toll account.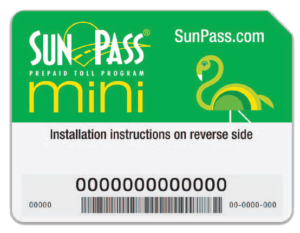 Cannot be used outside of fl, ga, or nc
can be used on motorcyles
Works where e-zpass is accepted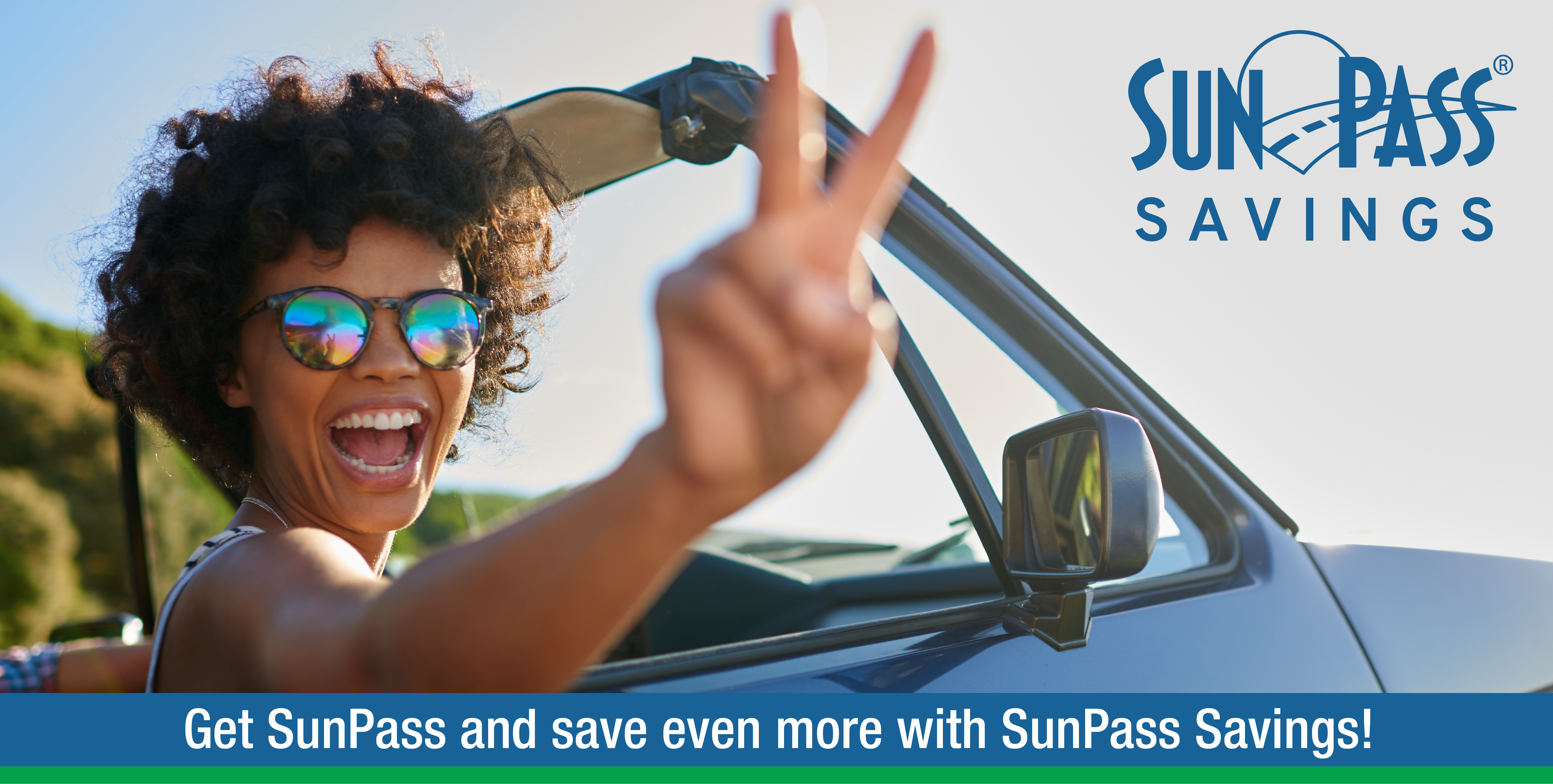 SunPass can be used on toll roads, bridges and managed lanes, and customers always pay the lowest toll rate in Florida. SunPass transponders are interoperable, meaning that a customer who has a prepaid account with one toll agency like SunPass can travel and have their tolls charged against their account at other toll agencies.
Both SunPass Mini and SunPass PRO work across Florida, Georgia and North Carolina. By partnering with E-ZPass, customers using the SunPass PRO can travel toll roads in these 19 states: Delaware, Florida, Georgia, Illinois, Indiana, Kentucky, Maine, Maryland, Massachusetts, Minnesota, New Hampshire, New Jersey, New York, North Carolina Ohio, Pennsylvania, Rhode Island, Virginia and West Virginia.
RETAIL LOCATIONS
Purchase a SunPass transponder at one of the thousands of retail locations in Florida, including Publix, CVS Pharmacy and Walgreens. Then, visit SunPass.com or download the SunPass mobile app to activate your SunPass. For a complete list of retail locations click here.
WALK-IN CENTERS
Visit one of our walk-in centers to purchase and activate your SunPass transponder. Click here for a complete list of walk-in centers.
CUSTOMER SERVICE CENTER
Call the SunPass Customer Service Center at 1-888-TOLL-FLA (1-888-865-5352) to purchase and activate a SunPass transponder. Your transponder will be mailed to you within 4 to 5 business days.
SUNPASS.COM
Go to SunPass.com to purchase and activate your SunPass transponder.
ENROLL IN EASY PAY
When your account reaches a low balance amount, it will be automatically replenished using your saved credit/debit card or bank account information
MANUALLY ADD FUNDS
Log into your account and use a credit/debit card or bank account to load funds as needed.
CALL CUSTOMER SERVICE
Call the customer service center to add funds over the phone or visit a walk-in center to add funds in-person.
CASH REPLENISHMENT
Add funds with cash at one of thousands of retail locations throughout Florida. No credit/debit card or bank account information needed. View more information here.
Benefits of Being a SunPass Customer
Save an average of 25% on your tolls compared to TOLL-BY-PLATE. Customers will always pay the lowest toll amount in Florida.
Transponders work on all Florida toll roads (including Florida Managed Lanes) and most bridges.
Both SunPass Mini and SunPass PRO work across Florida, Georgia and North Carolina. Customers using SunPass PRO can travel toll roads in 18 other states along the East Coast and west to Minnesota— anywhere E-ZPass is accepted.
Customers can use SunPass to pay for parking at most major airports in Florida, Port Canaveral, and the Hard Rock Stadium in Miami.
Access and manage your account on SunPass.com or with the free mobile applications for iOS and Android.
Enrolling in Easy Pay allows customers to link a credit card, a debit card or ACH to automatically add funds to their accounts.
Visit SunPass.com or call 1-888-TOLL-FLA and enjoy the perks of being a SunPass customer!