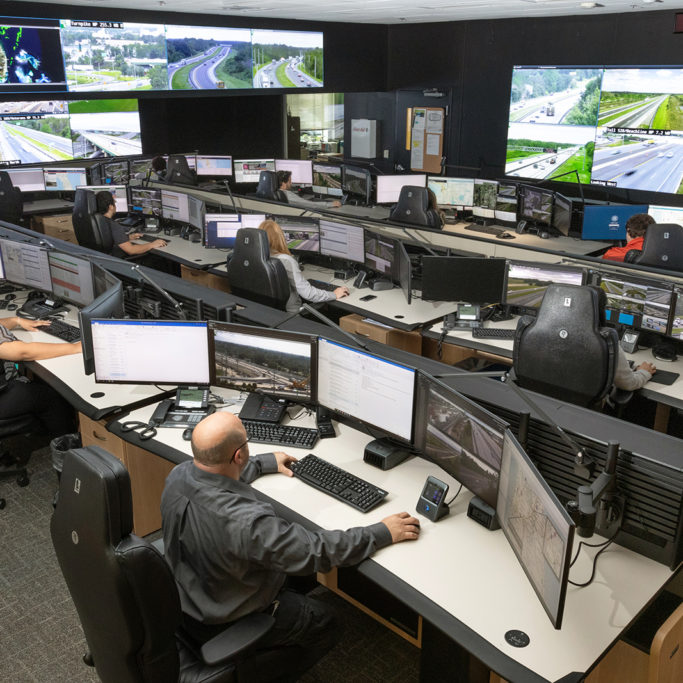 Traffic Management Center
With two facilities and regionalized operations, the Traffic Management Center (TMC) of Florida's Turnpike monitors and manages traffic along Florida's Turnpike System roadways 24 hours a day, 7 days a week. The staff works closely with Florida Highway Patrol, the Road Rangers Safety Patrol, the statewide 511 traveler information service, contracted tow service companies, traffic media, the Public Information Office and other agencies to provide you with accurate and timely information. The TMC actively monitors nearly 700 closed circuit television (CCTV) cameras for events on Florida's Turnpike System roadways. The TMC requests emergency roadway maintenance and collaborates with Florida Highway Patrol and tow operators to clear incidents within 90 minutes.
Motorist assistance on any of the Florida's Turnpike System roadways is available 24 hours a day, 7 days a week by calling *347 (*FHP).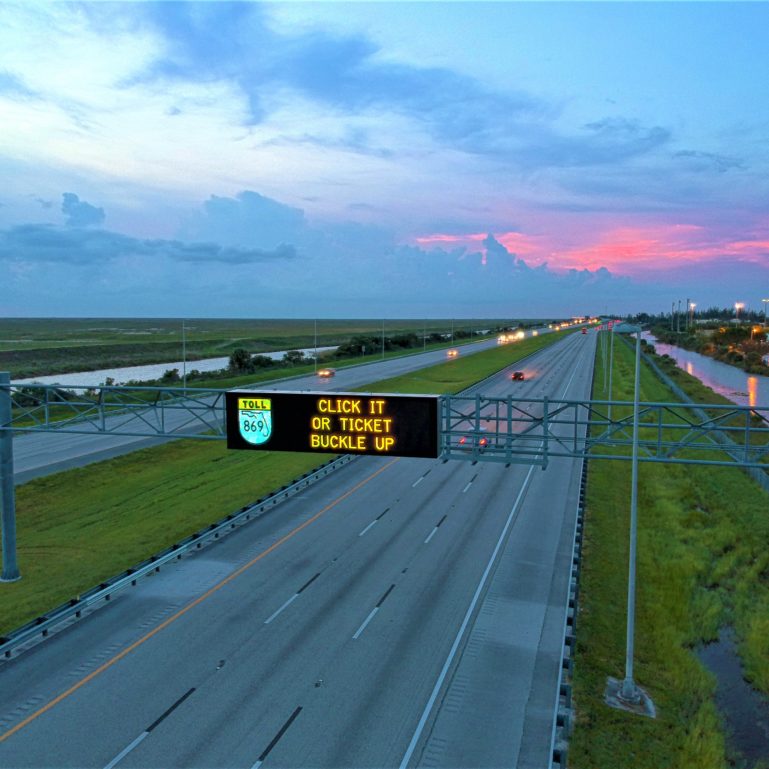 These electronically illuminated signs are strategically placed throughout Florida's Turnpike System. The overhead signs provide real-time information about traffic delays, incidents, emergency operations and construction, allowing customers to make better informed travel decisions. During major incidents, the first priority is to provide accurate information as quickly as possible. When traffic conditions don't warrant a motorist response, or if there is no other information to communicate, the signs broadcast travel times, public safety messages or other important information.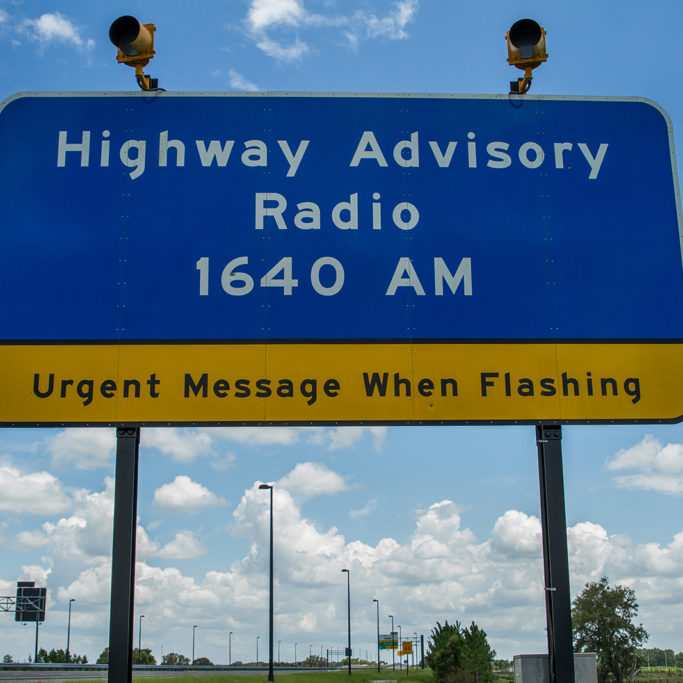 There are 15 Highway Advisory Radio transmitters placed at strategic locations along northbound and southbound lanes of Florida's Turnpike System that provide real-time information about traffic delays, emergency operations and construction updates. Messages are broadcast by the TMC on the 1640 AM frequency 24 hours a day, 7 days a week. Blue Highway Advisory Radio signs with flashing beacons indicate when drivers can hear the recorded emergency messages. When not reporting important incidents, Highway Advisory Radio is used to broadcast current construction information.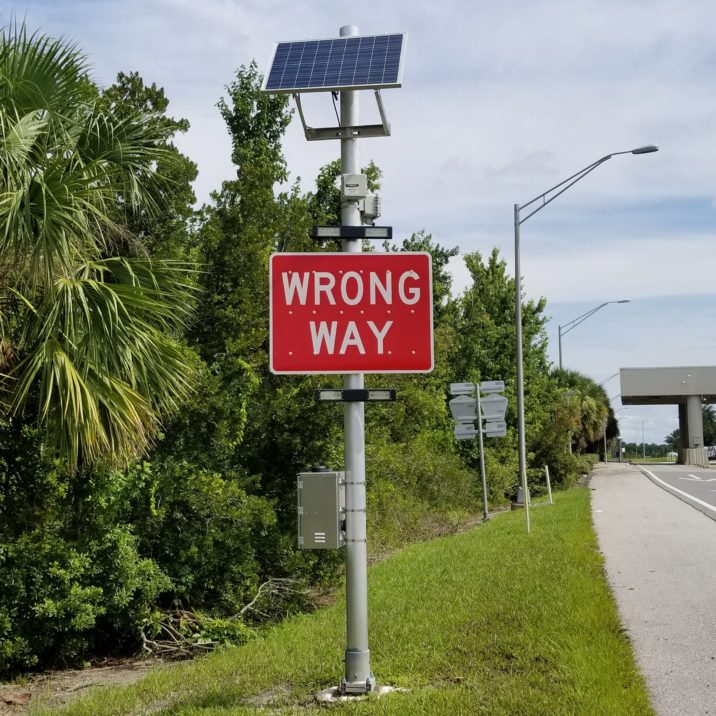 Wrong Way Driver Detection
Currently, Florida's Turnpike has wrong way driver detection equipment installed on five southbound exit ramps on the Sawgrass Expressway (SR 869), 12 exit ramps both north and southbound on Florida's Turnpike Extension (SR 821) and systemwide north and southbound (18 locations) on SR 417 in both Osceola and Seminole counties. Additional locations on Florida's Turnpike Mainline (SR 91) have been identified as the next phase of deployment.
This technology allows the TMC to post warning messages to drivers on roadway signs when a wrong way vehicle entry is detected.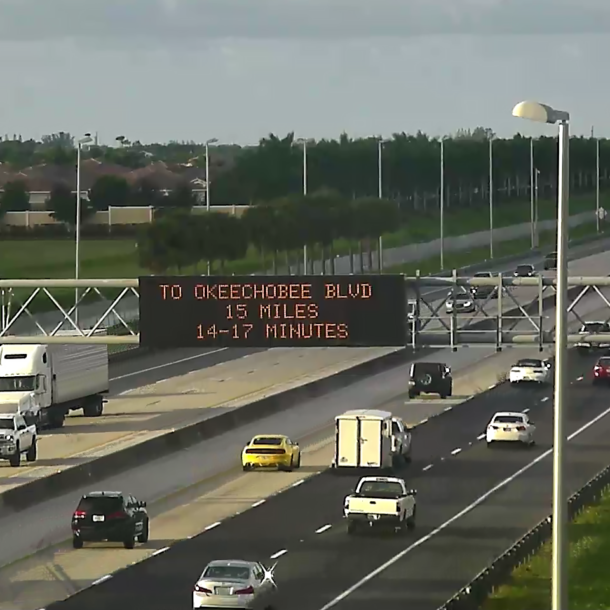 Florida's Turnpike uses sensors and technology readers to actively monitor and report real-time travel times to destination interchanges. Whenever possible, the most accurate travel time calculated will be posted on roadway Dynamic Message Signs to assist customers with their real-time travel plans.