First Coast Expressway,
New Facility from I-10 to I-95
First Coast Expressway is a partnership project between FDOT District 2 and Florida's Turnpike Enterprise. The first segment of First Coast Expressway from Blanding Boulevard to I-10 was completed and opened to traffic in fiscal year 2020. Adjacent segments from Blanding Boulevard to CR 209 are currently under construction (4722938-5,-6). 
These subsequent segments (422938-7,-8) will include a new bridge over the St. Johns River and extension of the facility to I-95. The new bridge will provide additional capacity over the St. Johns River. It will feature a shared path for pedestrian and bicycle access and enhance safety. By providing additional capacity via a beltway around the Jacksonville metropolitan area, First Coast Expressway will help to relieve congestion on other major roadways in the region including I-295, SR 21, US 17, and International Golf Parkway. 
St. Johns County is the 10th fastest-growing county in the country. Between 2010 and 2020, the total population grew by 40%. There are numerous active Developments of Regional Impact, including Silver Leaf Plantation, through which First Coast Expressway will connect to I-95.
This project is currently funded to be constructed in two segments: 
422938-7 includes the segment between

e

ast

of CR 16A Spur and

e

ast

of CR 209 and includes the bridge

422938-8 includes the segment between I-95 and

e

ast of CR 16A Spur

 
Construction of both segments is currently scheduled to begin in FY 2023.   
For information on the remaining segments including project maps, schedules, FAQs, and contact information, please visit www.firstcoastexpressway.com.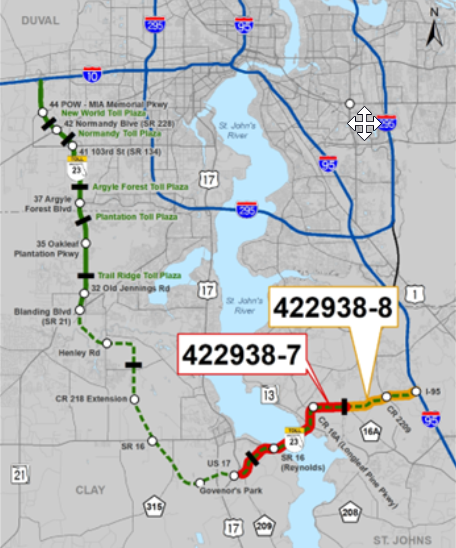 Suman Juluru, PE
Project Manager
Consultant to Florida's Turnpike Enterprise
Media inquiries should be directed to the FDOT, Florida's Turnpike Enterprise, Public Information Office using the contact information below:
Tom Alexander
Community Outreach Specialist
Consultant to Florida's Turnpike Enterprise