Kissimmee Park Road TSM&O
FPID: 441224-6
This project includes interim improvements to the existing interchange between Florida's Turnpike (SR 91) and Kissimmee Park Road (KPR), located near St. Cloud in Osceola County. The proposed improvements will help alleviate current operational issues with the existing interchange until the construction of the new Nolte Road Interchange. Once the new interchange at Nolte Road is in operation the existing interchange at Kissimmee Park Road will be removed.
This is a Transportation Systems Management and Operations (TSM&O) project. TSM&O projects focus on improving traffic operations to enhance mobility and safety.
Following the comments and concerns received during and after the Public Information Meeting on 4/18/2022 (virtual) and 4/19/2022 (in-person), the previously proposed alternative has been adjusted. Access to northbound Florida's Turnpike (SR 91) will be maintained by a dedicated left turn lane from eastbound Kissimmee Park Road. The new alternative will not require U-turn movements.
The improvements for the project include:
Modify existing southbound off-ramp from Florida's Turnpike (SR 91) to provide dual-left turns onto Kissimmee Park Road
A dedicated left-turn lane for eastbound Kissimmee Park Road traffic to access the northbound Florida's Turnpike (SR 91) on-ramp will be maintained
An additional through lane for eastbound Kissimmee Park Road traffic will be added
A PD&E Study was performed to address the operational deficiencies with the existing Kissimmee Park Road interchange, as well as provide capacity for future demand associated with the planned developments in this part of Osceola County. The recommended solution is to construct a new interchange with an extension of Nolte Road and to close the existing Kissimmee Park Road interchange. Local agencies, key stakeholders and the public have been engaged in the development of interchange alternatives during the PD&E Study. Due to the timing for the construction of the new interchange, and the current operational issues, it was decided to implement interim TSM&O improvements.
The project is located at the Florida's Turnpike interchange with Kissimmee Park Road, near the City of St Cloud in Osceola County.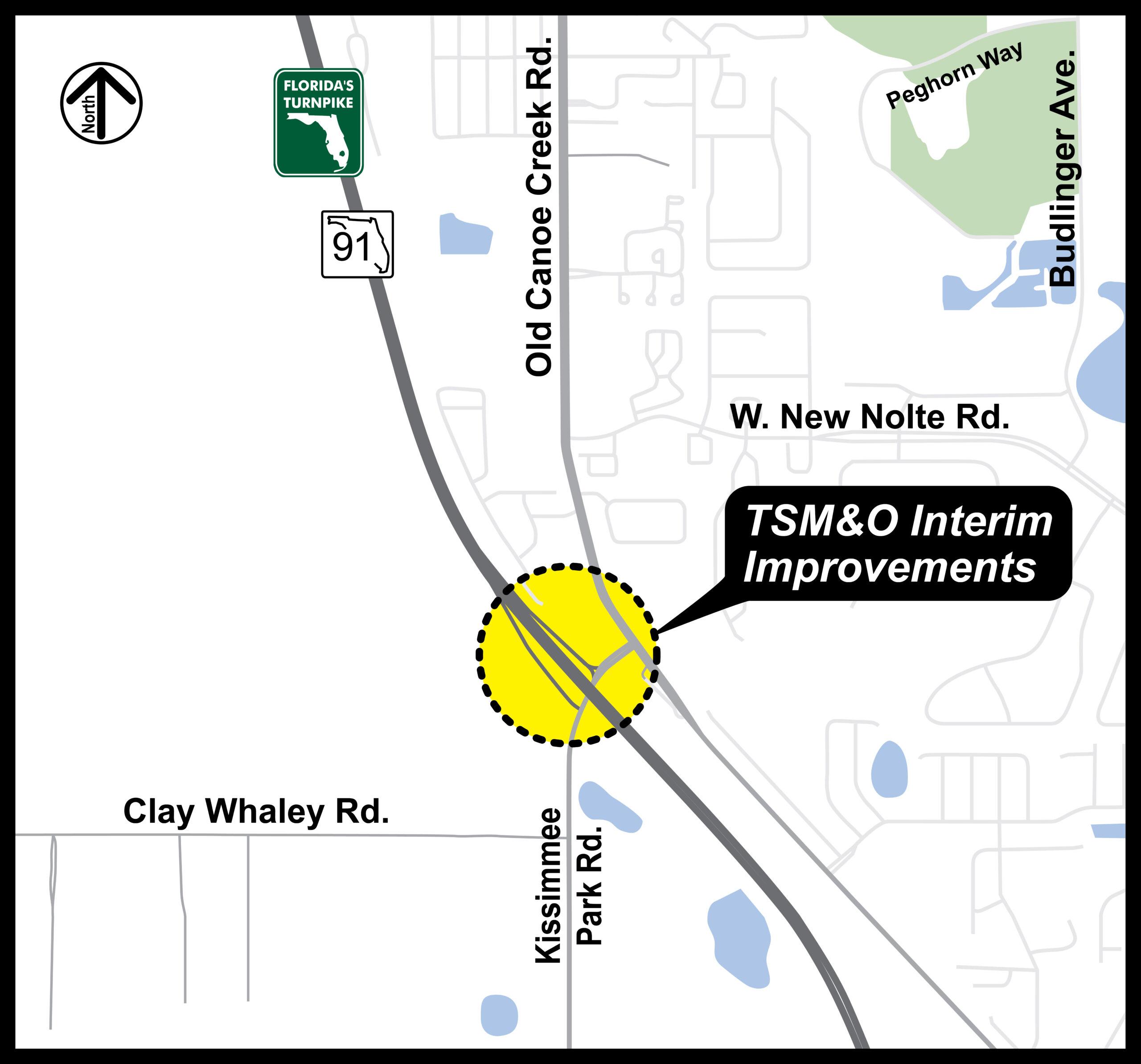 The natural environment is a critical foundation of the region's economy and quality of life. The proposed TSM&O improvements will not impact any environmentally sensitive areas or species.
FTE is at the forefront of planning for a safer, more efficient, and technologically advanced transportation system for the future. FTE continually seeks opportunities to integrate emerging transportation technologies that can help reduce congestion, create mobility choices, minimize environmental impacts and improve safety. FTE also recognizes that connected and automated vehicle (CAV) technologies hold unprecedented opportunities for enhancing mobility and increasing safety on our roadways.
If you have an idea for a technology or innovation that you would like to be considered as part of this study, please reach out to one of the contacts in the Stay Connected section below.

Schedule is subject to change.
Yang Zhao, PE, PHD
Project Manager
Florida's Turnpike Enterprise (HNTB Team)
Media inquiries should be directed to the FDOT, Florida's Turnpike Enterprise, Public Information Office using the contact information below:
Tom Alexander
Community Outreach Specialist
Florida's Turnpike Enterprise (WSP USA)