Widen Seminole Expressway/SR 417
From north of the Orange/Seminole County Line to north of the SR 434 Interchange
FPID: 417545-1
This Design-Build project widens a six-mile section of Seminole Expressway from Aloma Avenue/SR 426 to SR 434 in Seminole County. The project will increase the number of travel lanes from four to eight. Additional work includes pavement milling and resurfacing, new drainage ponds, bridge widening, bridge reconstruction and roadside safety enhancements. Currently, the project is in the Conceptual Design Phase of the Design–Build Project Development process.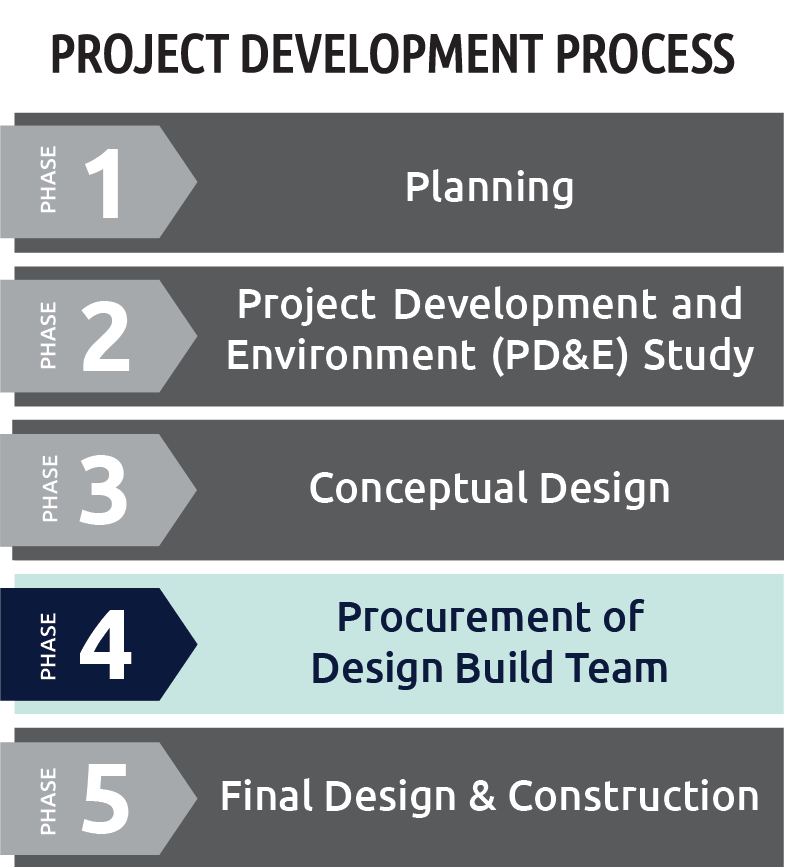 Noise Studies are performed in the Project Development and Environment Study (PD&E) phase as well as the Design phase, and reevaluated if there is a major change in design to the roadway. A noise wall evaluation for this project was completed. Noise specialists used the approved federal and state criteria for evaluating whether noise abatement or reduction would benefit property owners. The analysis identified noise abatement locations and the proposed method to reduce traffic noise, including walls. The findings are documented in the Noise Study Report.
SR 417 is a hurricane evacuation route and a major north-south corridor for commercial and private transportation. The interchanges at Aloma Avenue, Red Bug Lake Road, and SR 434 all serve as important east-west connections. Also, the Cross Seminole Trail crosses over the project area in two locations. Land use adjacent to this project and within the general vicinity of SR 417 consists primarily of residential and commercial development.
The original Project Development & Environment (PD&E) Study was initiated in November 2005 for SR 417 from the Orange County line to the Rinehart Road interchange. A Public Hearing was held on April 17, 2007, to discuss the project status and to offer project stakeholders the opportunity to review project documents and provide comments. Throughout the PD&E Study phase, representatives from the Enterprise made presentations to various agencies and groups in adherence of PD&E commitments which include:
Coordinate with agencies
Conduct a noise evaluation and abatement (if necessary)
Minimize property impacts
Protect threatened and endangered species
Mitigate freshwater wetland impacts
During the project's PD&E phase, it was determined that widening of the existing roadway would result in increased traffic noise.  As a result, it was recommended that noise walls be reevaluated during project design at multiple locations along SR 417. Pursuant to the FDOT Design Manual (FDM), Chapter 264 Noise Walls and Perimeter Walls, noise abatement identified as reasonable and feasible in the Noise Study Report (NSR) developed as part of the PD&E documentation, was reevaluated. This reevaluation further assessed noise abatement and determined if it is still reasonable and feasible based on abatement criteria and project design. Results of this reevaluation are documented in an addendum to the project NSR. Results were presented and discussed with affected stakeholders as outlined in FDM Chapter 264 and the FDOT PD&E Manual, Part 1, Chapter 11 (July 2020).
The project limits are from Aloma Avenue/SR 426 to SR 434 in Seminole County. The total project length is approximately 6.6 miles (see project location map below).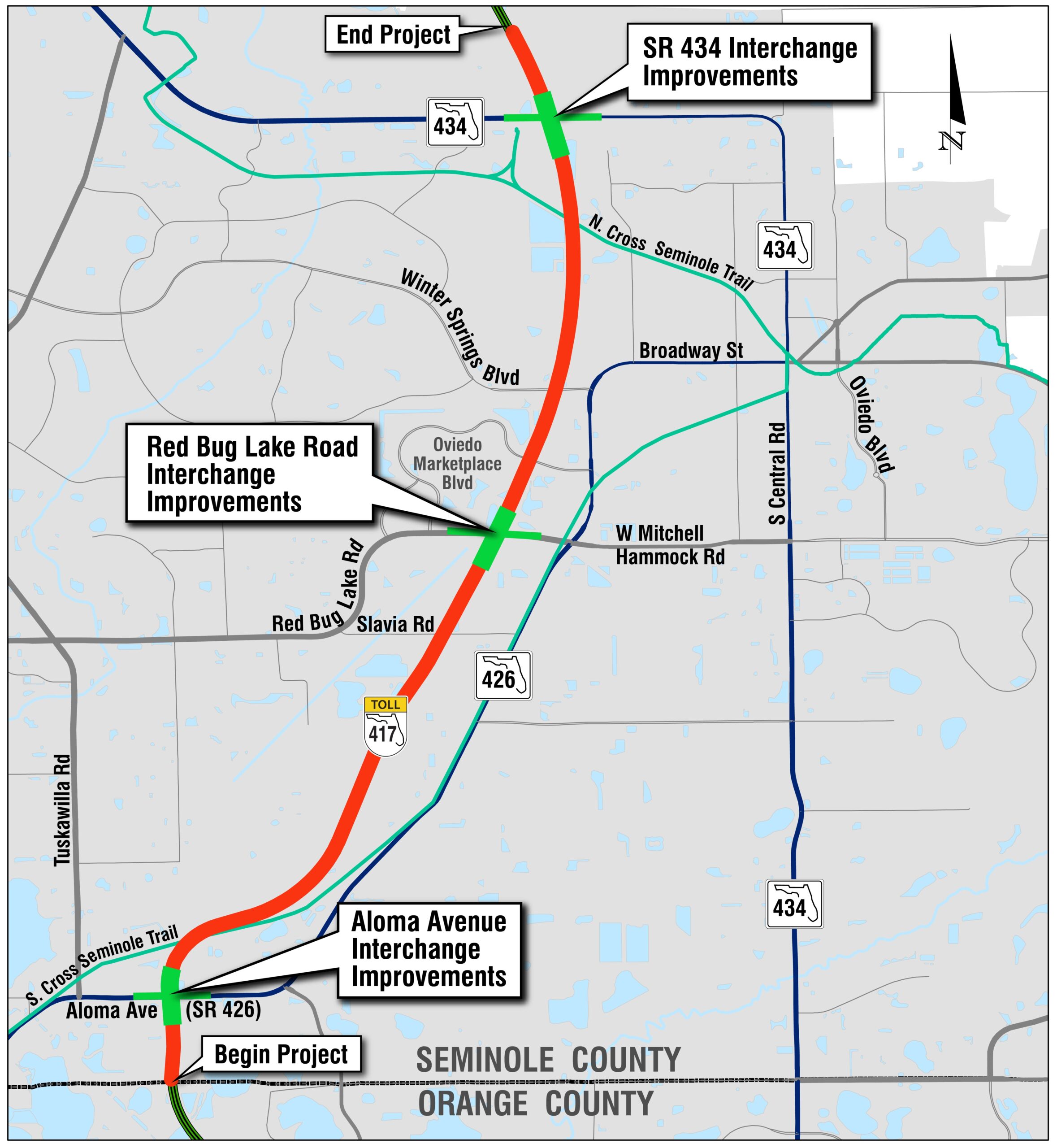 EXISTING CONDITIONS
The existing mainline configuration of SR 417 in the project area consists of two 12-foot lanes, a 10-foot outside shoulder, and an 8-foot inside shoulder in both the northbound and southbound directions. Additionally, there is a guardrail adjacent to the southbound inside lane and a 64-foot grassed median.

PROPOSED DESIGN
The proposed mainline configuration consists of four 12 -foot lanes, a 10-foot outside shoulder, and a 12-foot inside shoulder in both the northbound and southbound directions. Most of the proposed widening will occur along the inside lanes, with only five feet of widening to the outside lane. Additionally, a concrete barrier wall located in the median will separate opposing lanes of traffic.

Primary roadway improvements will consist of the mainline widening. Additional mainline improvements will include the following: enhancements to existing stormwater ponds, upgrades to the Intelligent Transportation System (ITS), construction of noise walls in areas that meet FDOT criteria, installation of roadway lighting, enhancements to roadside safety features, and widening and/or replacement of mainline bridges.
Aloma Avenue Interchange:
Replacement of existing SR 417 bridges over Aloma Avenue
Two additional right turn lanes along the southbound off-ramp
An additional left turn lane along the northbound off-ramp
An additional eastbound right turn lane along the southbound on-ramp
Pedestrian and bicycle accommodations including eight-foot pedestrian sidewalks on each side and five-foot bicycle lanes which are separated from the travel lane by a two-foot buffer
An additional westbound thru lane
An additional eastbound left turn lane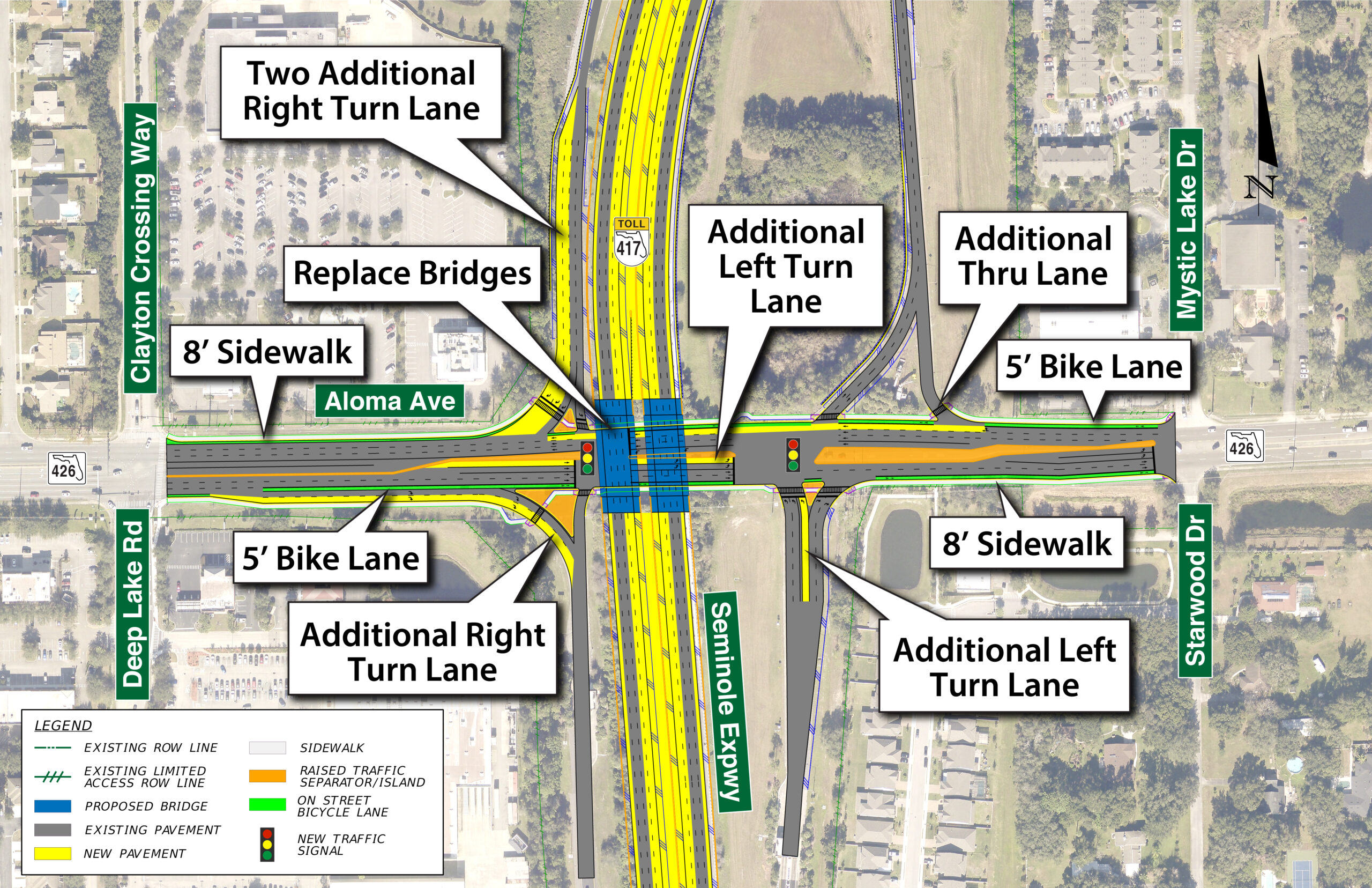 Red Bug Lake Road Interchange:
Modification of existing SR 417 bridges over Red Bug Lake Road
An additional right turn lane along the northbound off ramp
An additional eastbound left turn lane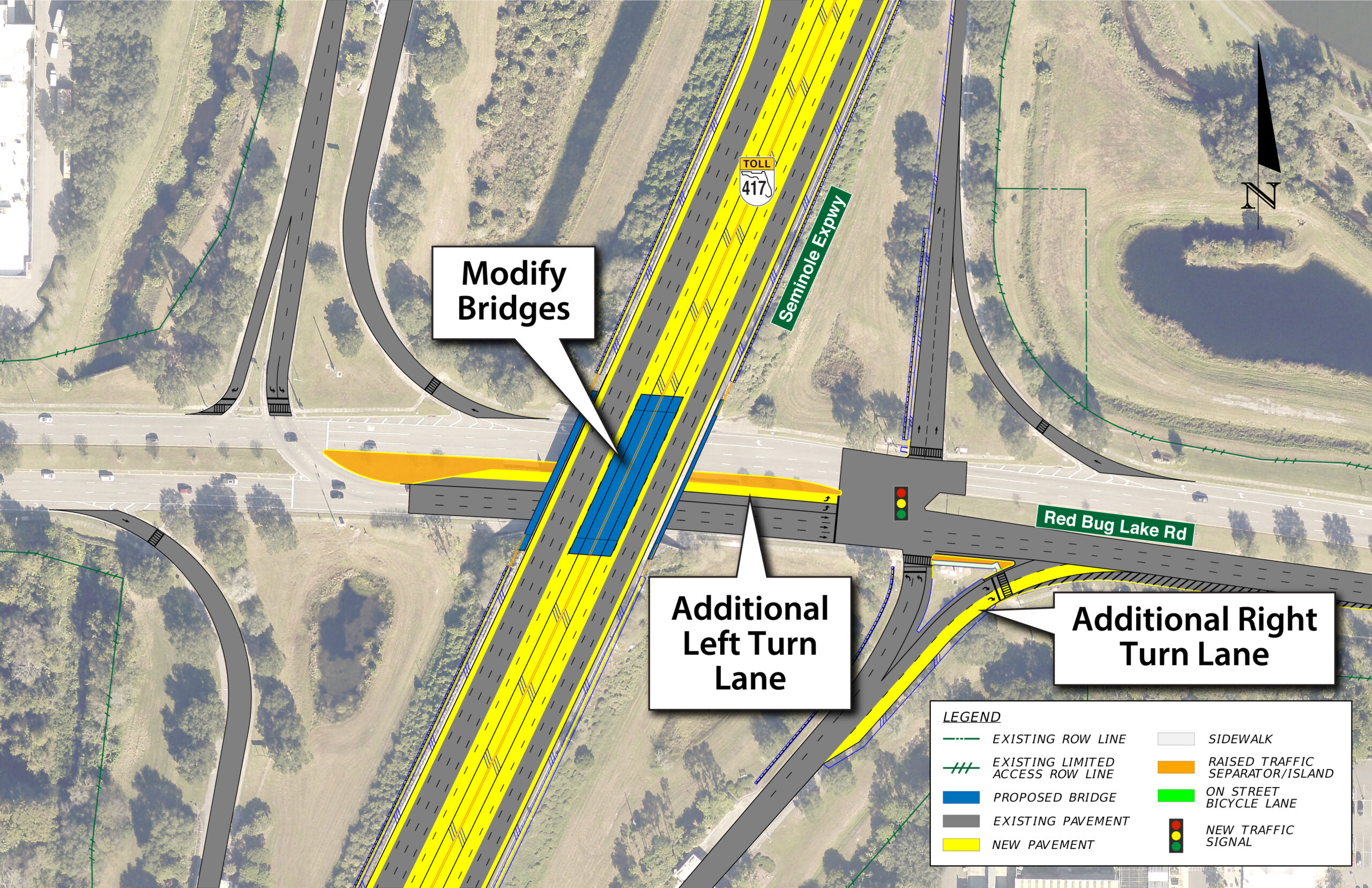 SR 434 Interchange:
Modification of existing SR 417 bridge over SR 434
An additional left turn lane along the southbound SR 417 off-ramp
An additional left turn from eastbound SR 434 to northbound SR 417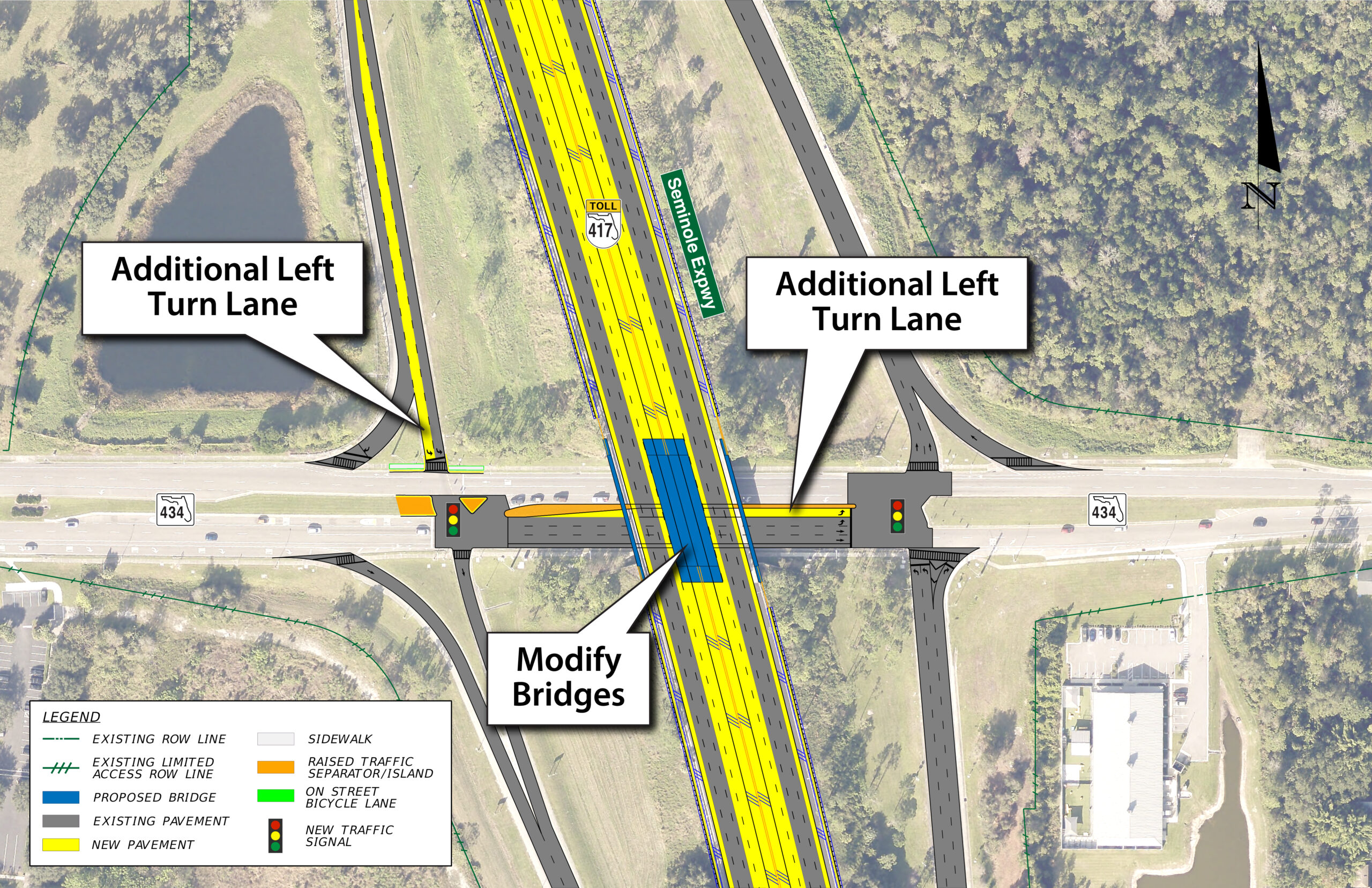 A State Environmental Impact Report (SEIR) was completed and approved in 2007. The PD&E Study was reevaluated to determine whether the alternatives, impacts, existing environmental factors, and mitigation measures set forth in the 2007 SEIR remain applicable, accurate, valid, and meet state requirements. For more information, please view the  FDOT project development process video.
Florida's Turnpike Enterprise is at the forefront of planning for a safer, more efficient, and technologically advanced transportation system for the future. The Enterprise continually seeks opportunities to integrate emerging transportation technologies that can help reduce congestion, create mobility choices, minimize environmental impacts, and improve safety. The Enterprise also recognizes that connected and automated vehicle (CAV) technologies hold unprecedented opportunities for enhancing mobility and increasing safety on our roadways.
If you have an idea for a technology or innovation that you would like to be considered as part of this study, please reach out to one of the contacts in the Stay Connected section below.

Schedule is subject to change.
Continue to check this web page, (www.SeminoleEXPYAloma434.com), for project updates.
Project inquires, comments, innovation/technology ideas, or requests to be added to the project mailing list, can be mailed or emailed to:
Project Manager
Consultant to the Florida's Turnpike Enterprise
Media inquiries should be directed to the FDOT, Florida's Turnpike Enterprise, Public Information Office using the contact information below:
Tom Alexander
Community Outreach Specialist
Consultant to the Florida's Turnpike Enterprise
If you choose to provide feedback on this site or in an email, such information is a public record under Florida's Government in the Sunshine Laws and available for public inspection upon demand. Under Florida law, email addresses are public records. If you do not want your email address released in response to a public records request, do not send electronic mail to this entity. Instead, contact this office by phone or in writing.
Public participation is solicited without regard to race, color, national origin, age, sex, religion, disability, or family status.
If you need special accommodations under the Americans with Disabilities Act or require translation services (free of charge), please contact the Project Manager using the contact information listed on this page. If you are hearing or speech impaired, please contact the agency using the Florida Relay Service, 1 (800) 955-8771 (TDD) or 955-8770 (voice).