Midway Road Interchange
Midway Road/CR 712 and Florida's Turnpike Mainline SR 91
FPID: 451858-1
Florida's Turnpike Enterprise, part of the Florida Department of Transportation (FDOT), is designing a new interchange at Midway Road and Florida's Turnpike in St. Lucie County, Florida.
Design is the third phase of the FDOT project development process. Construction plans, specifications, and final estimates to build the project are developed during the design phase.
This project will build access to and from the south of Florida's Turnpike Mainline. The two ramps constructed as part of this project will be the Turnpike Mainline Northbound off-ramp to Midway Road and the Midway Road Southbound on-ramp to Turnpike Mainline. The two other ramps, a Northbound on-ramp and a Southbound off-ramp, will be built as part of a future project.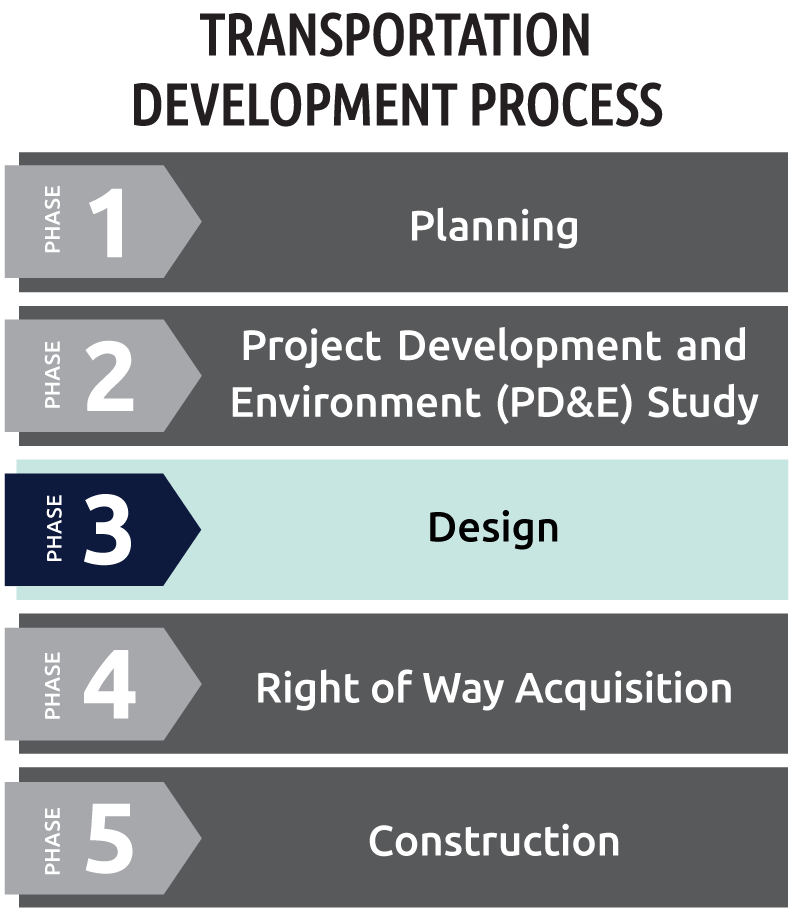 The new partial interchange will:
Enhance connectivity
Address existing and future traffic needs
Enhance access for emergency responders and during hurricane evacuations
The new off-ramp connection from Northbound Turnpike Mainline to Midway Road will be signalized. The new ramps will tie into the project to widen Midway Road from Glades Cut Off Road to Jenkins Road from two to four lanes, which is being designed by FDOT District 4 (FPID 231440-4). The two new ramps and widening of Midway Road from Glades Cut Off Road to Jenkins Road will be built together as one construction project. Please visit www.midwayrd.com to learn more about the FDOT District 4 project.
No tolls will be collected on the two new ramps being built with this project.
Noise Studies are performed in both Project Development and Environment (PD&E) Study phase and the Design phase, and re-evaluated if there is a major change in design to the roadway.
Florida's Turnpike Enterprise completed a Project Development and Environment (PD&E) Study that evaluated interchange alternatives for Midway Road and Florida's Turnpike mainline. The PD&E study was completed in 2022 and included an assessment of the widening of Florida's Turnpike Mainline from Indiantown Road/SR 706 to Okeechobee Road/SR 70 with any associated interchanges. Midway Road was one of the interchanges included in that PD&E study.
Area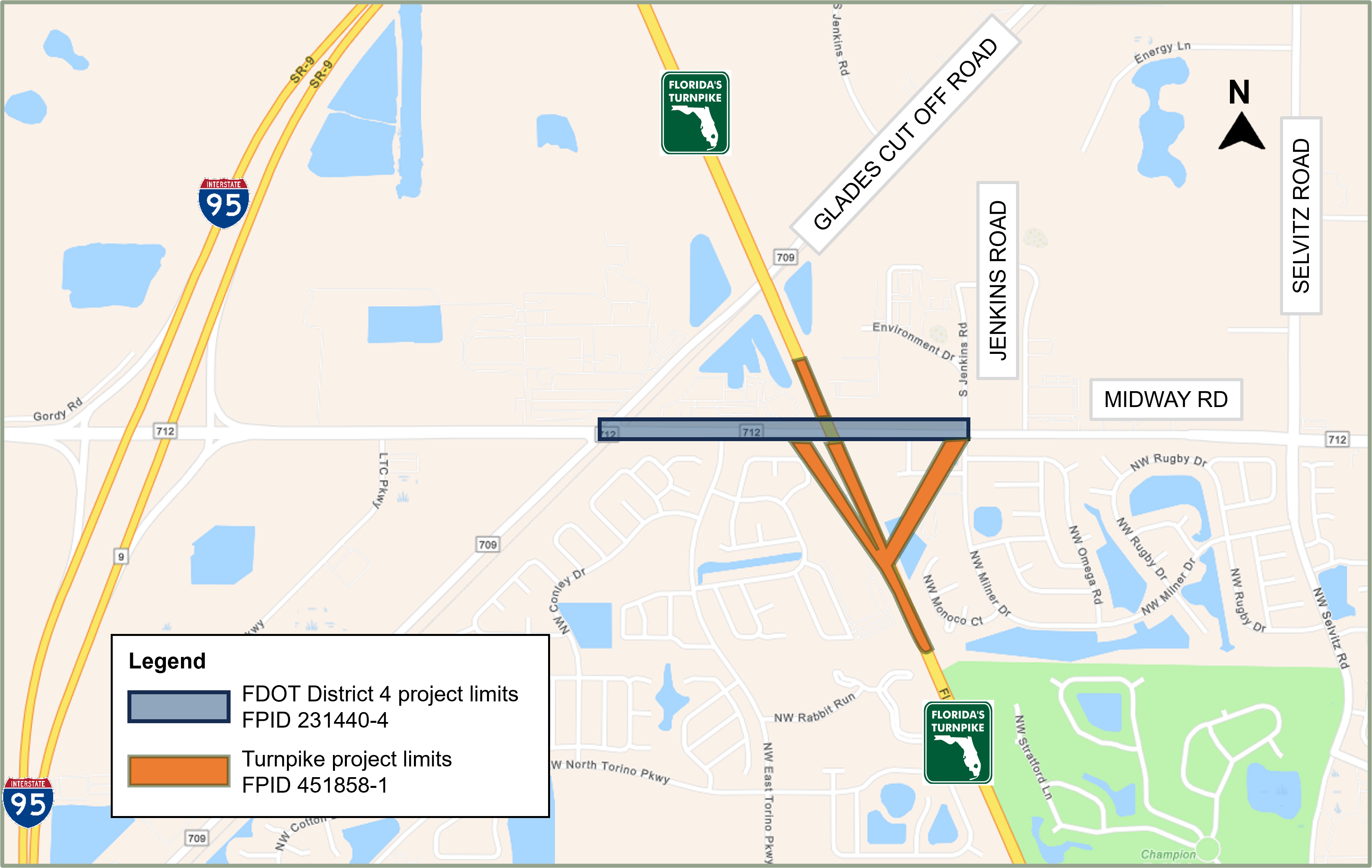 As part of the PD&E Study finalized in 2022, potential impacts to the environment were considered and measured to minimize and mitigate these impacts were incorporated into the project. Based on the recommended design, it was determined that there are impacts to wetlands in the project area. As the design phase continues, these impacts and any new impacts associated with the project will be identified and addressed through the permitting process with the appropriate resource agency.
Florida's Turnpike Enterprise is at the forefront of planning for a safer, more efficient, and technologically advanced transportation system for the future. The Enterprise continually seeks opportunities to integrate emerging transportation technologies that can help reduce congestion, create mobility choices, minimize environmental impacts and improve safety. The Enterprise also recognizes that connected and automated vehicle (CAV) technologies hold unprecedented opportunities for enhancing mobility and increasing safety on our roadways.
If you have an idea for a technology or innovation that you would like to be considered as part of this study, please reach out to one of the contacts in the Stay Connected section below.

Schedule is subject to change. 
Project inquires, comments, innovation/technology ideas, or requests to be added to the project mailing list, can be mailed or emailed to:
Project Manager
Consultant to Florida's Turnpike Enterprise
Daniel Jimenez
Community Outreach Manager
Consultant to Florida's Turnpike Enterprise
If you choose to provide feedback on this site or in an email, such information is a public record under Florida's Government in the Sunshine Laws and available for public inspection upon demand. Under Florida law, email addresses are public records. If you do not want your email address released in response to a public records request, do not send electronic mail to this entity. Instead, contact this office by phone or in writing.
Public participation is solicited without regard to race, color, national origin, age, sex, religion, disability, or family status.
If you need special accommodations under the Americans with Disabilities Act or require translation services (free of charge), please contact the Project Manager using the contact information listed on this page. If you are hearing or speech impaired, please contact the agency using the Florida Relay Service, 1 (800) 955-8771 (TDD) or 955-8770 (voice).